Description:
This portable power station is an outdoor multi-functional power supply with built-in lithium-ion battery, and can store electrical energy.
The outdoor portable power station is equivalent to a small portable charging station, with light weight, big capacity, large power, long service life and strong stability. It is not only equipped with multiple USB interfaces to meet the charging of digital products, but also can output DC, AC and other common power interfaces.
It can power laptop computers, drones, photography lights, projectors, rice cookers, electric fans, kettles and other equipment. It is suitable for outdoor camping, outdoor live broadcast, outdoor construction, location shooting, family emergency electricity and other scenes with high power consumption.
Features:
1. Multiple output outlets, multiple equipment charging at the same time, do not interfere with each other, to meet a variety of power supply equipment
2.3 charging methods, 3-4 hours full
3. Intelligent temperature control, safe and extended service life
4. All aluminum frosted shell, abrasion resistant and scratch resistant
5. High quality automotive battery pack, longer life, safety and peace of mind
Product Parameter:
| | |
| --- | --- |
| Model NO. | YH-300W |
| Inverter Power | 300W |
| Charge | Car charge, AC charge, Solar charging |
| Battery Capacity | 20A(256WH) LFP battery |
| Output Voltage | 220v×1, USB×2, 220v can be customized |
| Output Frequency | 50HZ/60HZ |
| Rated Power | Resistive load≥300W, Inductive load≥180W |
| Voltage Protection | Battery voltage below 11.0V alarm, less than 10.5V off |
| Display Screen | 5 grid power display |
| 220v Charging Current | 12.8V/5A Supports MAX. 5A current charging |
| Solar Charging Current | ≥2.5A≤5A |
| Car Charging Current | ≥10A |
| Product Size | 280×180×70mm |
| Product Weight | N.W.2KG G.W.2.55KG |
| Package Size | 618×425×540mm |
| Color | Black |
| Packing | 10pcs/ctn |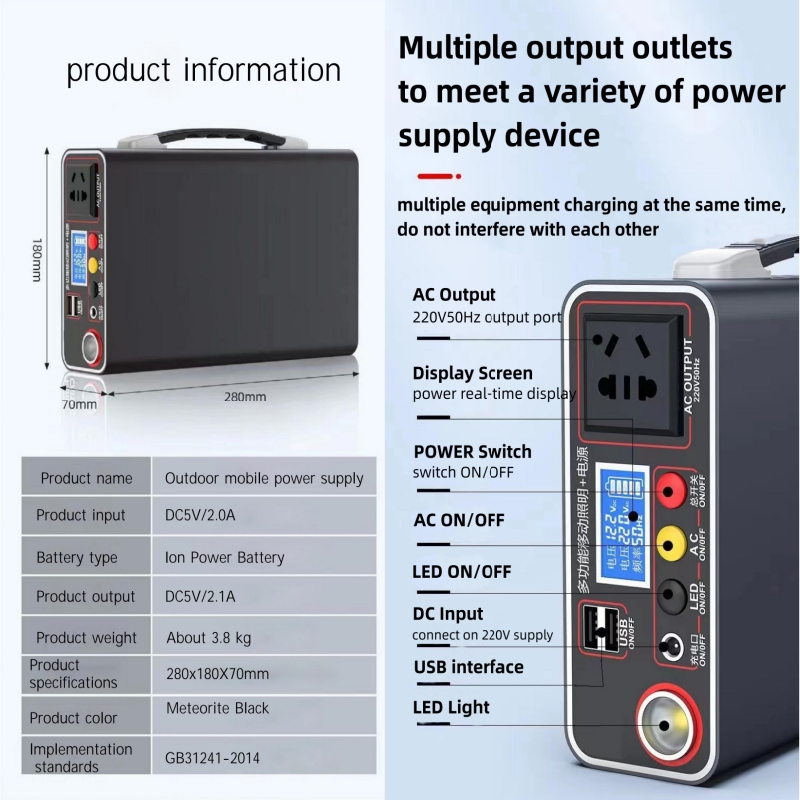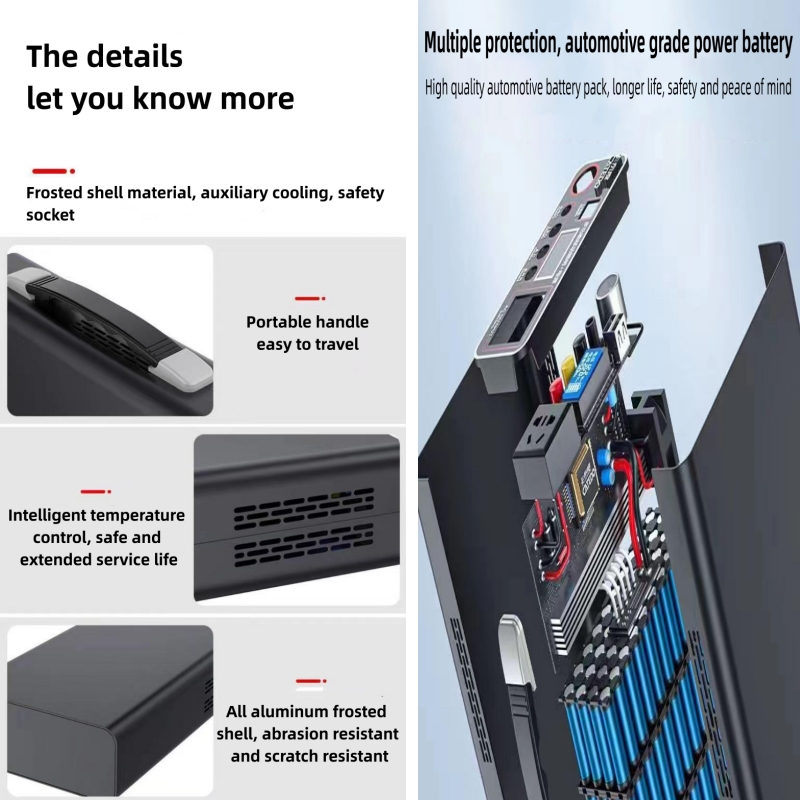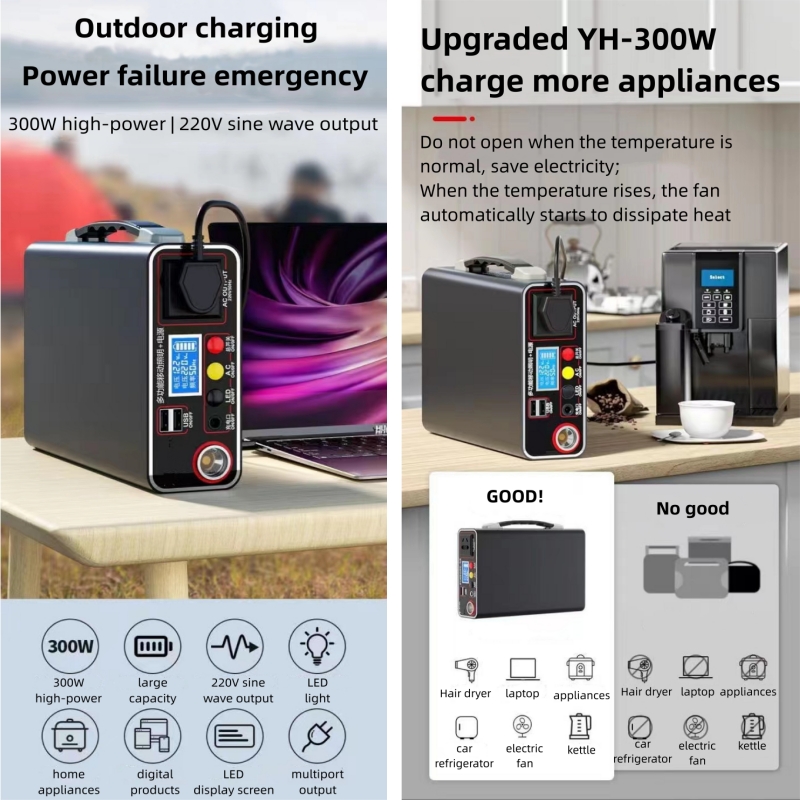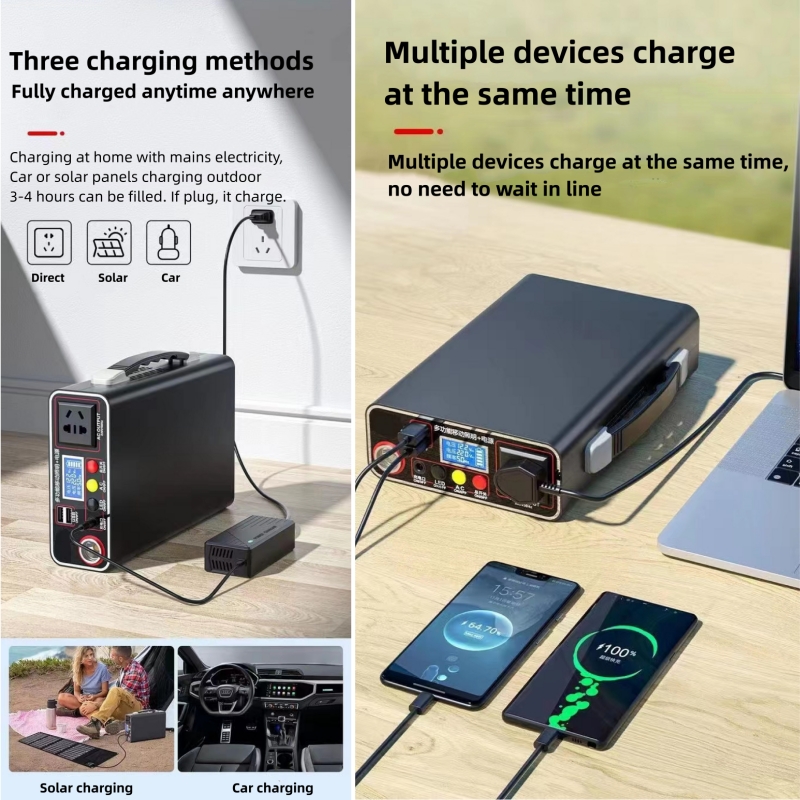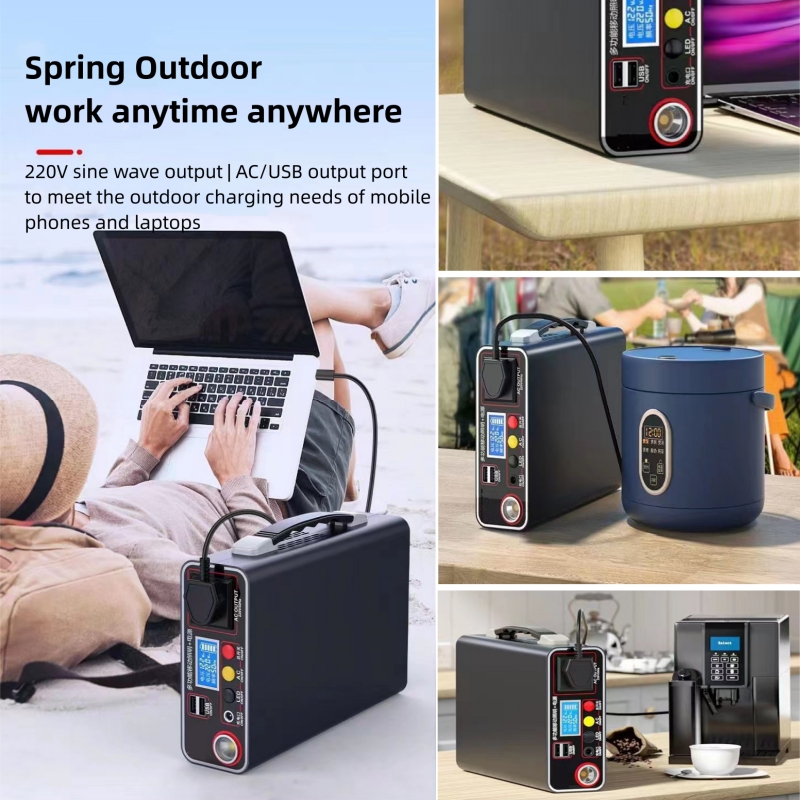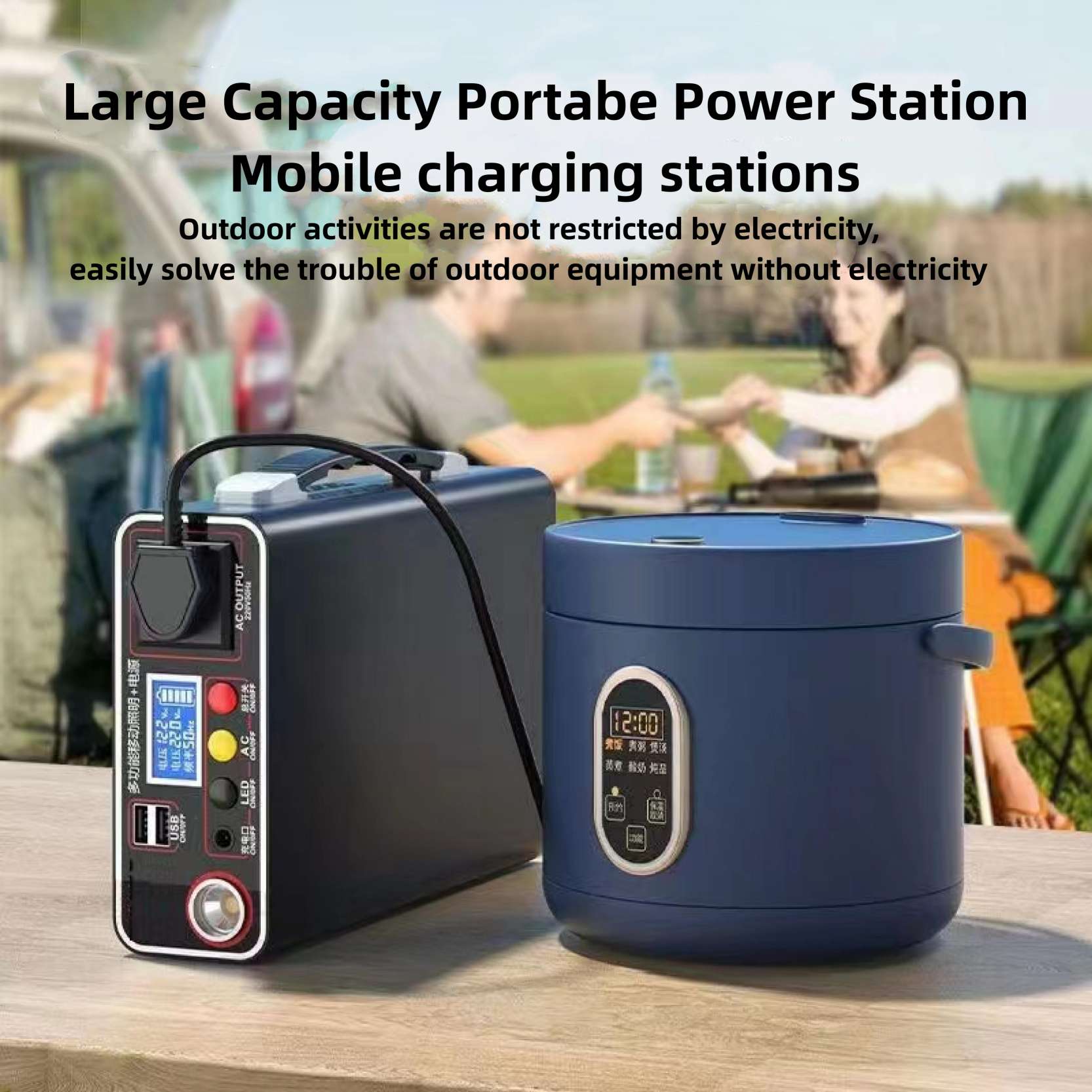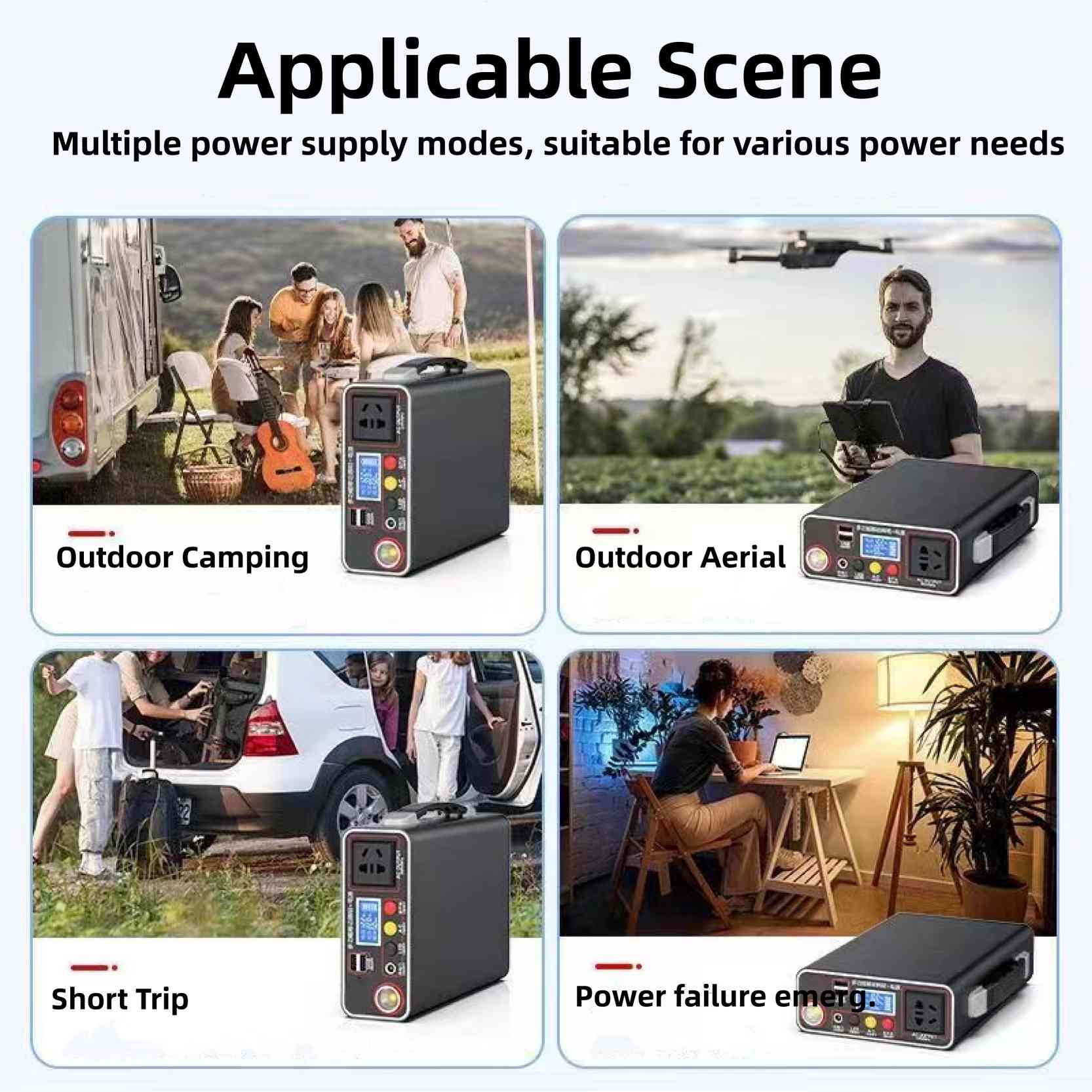 FAQ
1. what devices can YH-300W power?
Please note that the AC output ports can only charge/power devices that operate at less than 300-Watts, besides, the whole wattage should be under 300 watts as well . Once exceeding, the YH-300W will shut off automatically. Please refer to your device specification before purchase.
2. How to know the working time of my device?
Working time = 1002Wh* 0.85 / operating wattage of your device
For reference, assuming power consumption of your device is 60W (might be a box fan), working time will be 1002Wh*0.85/60w=14.2hrs (rough calculated) .
Please note: actual power consumption varies from different usages, please consult BFC for better purchase decision.
3. What is the maximum watts of solar panels can be used to charge YH-300W? Also how long will it take to recharge from a fully discharge battery?
The maximum input voltage of YH-300W is 18V, electric current is 3A. As for recharging time, it depends on which panel you are using and weather conditions. Recharging time may varies from different location, temperature, weather etc, the actual time may be different.
4. Is the YH-300W power station waterproof?
The YH-300W is is only secondary waterproof. Please do not store them in rain or in humid environment for longtime.
5. Can the YH-300W be charged while using?
Yes, you can use the YH-300W to charge devices, while it's being re-charged at the same time. However, it is not recommended, because the voltage will increase when charging, and the machine will heat up, just like when the mobile phone is charging, it is not recommended to use while charging.